Posted on November 10, 2022 - 3:16 PM
Ian remains a Category 1 Hurricane. Chatham County remains under a Tropical Storm Warning and a Storm Surge Warning. A Flood Watch is in effect east of I-95 until Saturday morning, October 1. Hurricane Ian has sustained winds at ­­­­­­85 mph and is moving NNE at 9 mph.
Potential impacts remain consistent for our area Friday morning into afternoon, which include:
-gusty winds that are potentially Tropical Storm strength
-.5" - 1" of rainfall
-elevated tides, especially around Noon Friday
-possible life-threatening surf and rip current conditions
-storm surge of 3-5 feet
Tropical-storm-force winds extend outward up to 415 miles from the center of Ian. The combination of storm surge and the tide will cause normally dry areas near the coast to be flooded by rising waters moving inland from the shoreline.
If you have any questions or concerns, don't hesitate to contact CEMA at 912-201-4500.
---
Posted on November 10, 2022 - 1:16 PM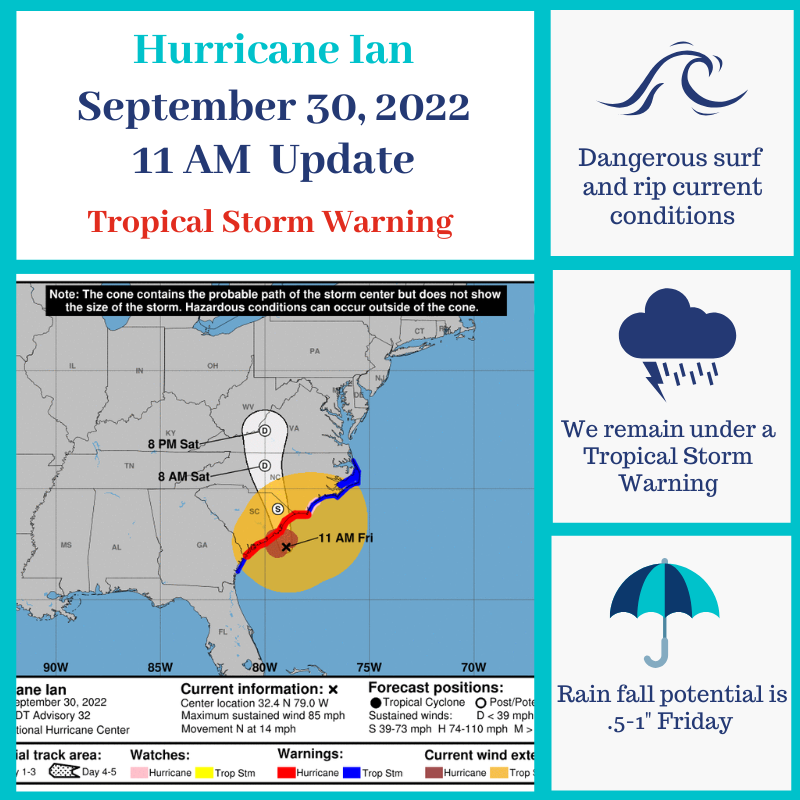 ---