Posted on September 29, 2022 - 12:1 PM
Chatham County is under a Hurricane Watch, Tropical Storm Warning and a Storm Surge Warning. A Flood Watch is in effect until Saturday morning, October 1. Tropical Storm Ian has sustained winds at 70 mph and is moving N,NE at 9 mph. Hurricane warning only exists from the Savannah River north into South Carolina. Though in the graphic it appears Chatham County is in the area for a Hurricane warning, we are not.
Potential impacts to our area are expected today and Friday and include:
-gusty winds that are potentially Tropical Storm strength
-possibility of low-end hurricane-force wind gusts
-potential isolated tornadoes
-4-6" of rainfall
-elevated tides
-possible life-threatening surf and rip current conditions
-storm surge of 4-6 feet
Actions you need to take: With the onset of Tropical Storm Force winds be sure to look for downed powerlines. Report any outages directly to your utility company.
Tropical-storm-force winds extend outward up to 415 miles from the center of Ian. The combination of storm surge and the tide will cause normally dry areas near the coast to be flooded by rising waters moving inland from the shoreline.
If you have not done so, you can sign up for CEMA Alerts at https://chathamemergency.org/ or text CEMA to 77295 to receive up to date information as it becomes available.
A Storm Surge Warning means there is a danger of life-threatening flooding from rising water moving inland from the coastline.
A Tropical Storm Warning means that tropical storm conditions are
expected somewhere within the warning area.
A Hurricane Watch means that hurricane conditions are possible
within the watch area.
If you have any questions or concerns, don't hesitate to contact CEMA at 912-201-4500.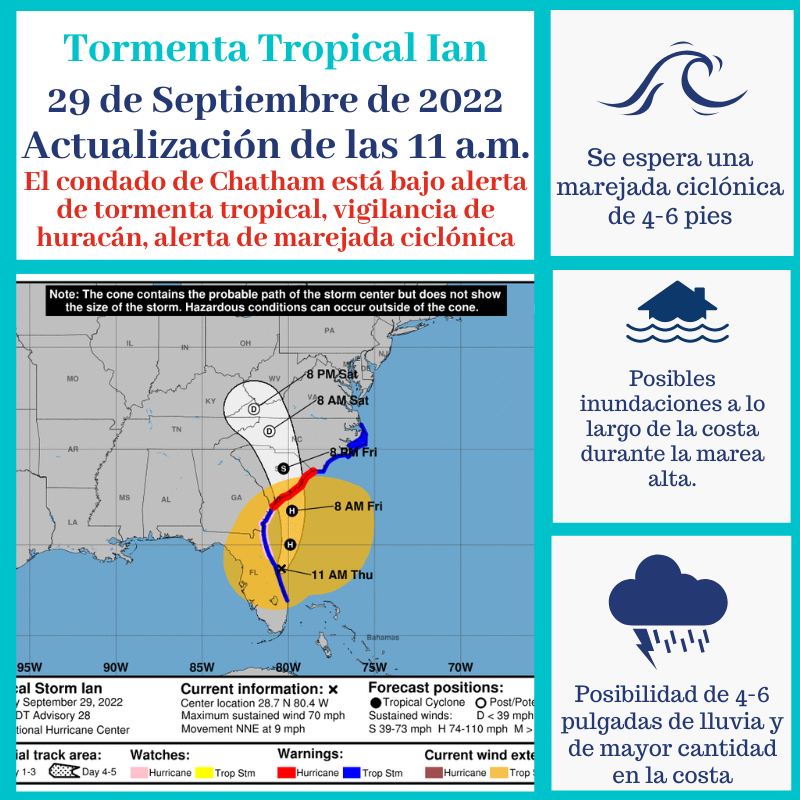 ---