Posted on July 31, 2020 - 12:54 PM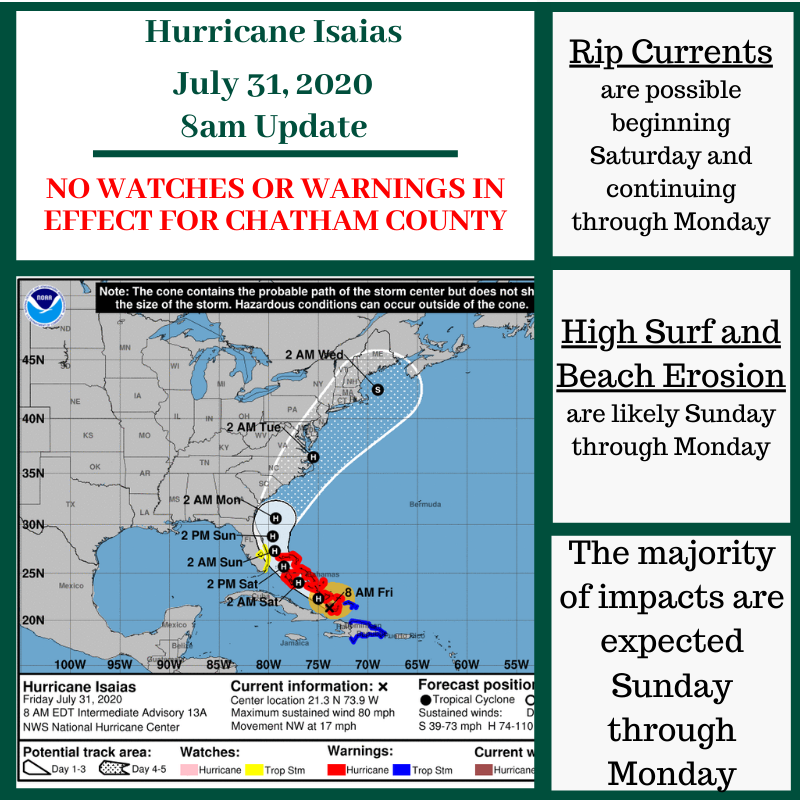 July 31, 2020 8am Update
Hurricane Isaias is approximately 730 miles southeast of Chatham County.
Possible impacts include:
Rip Currents: Dangerous rip currents possible beginning Saturday and continuing through Monday.
High Surf & Beach Erosion: Likely Sunday through Monday.
Coastal Flooding: Minor to moderate inundation along the SC/GA coast with the high tides Sunday evening and Monday morning. Low chance for major flooding, mainly with the Sunday evening high tide.
Winds: Isaias is expected to be a compact system as it passes the area. The strongest winds will likely remain over the Atlantic waters where there is a moderate risk for tropical storm force winds and a low risk for hurricane force winds. Along the immediate coast there is a low risk for tropical storm force winds. The strongest winds are expected Sunday into Monday morning.
Flooding Rainfall: The threat for heavy rainfall and potential flash flooding is expected to increase Sunday afternoon into Monday and be greatest near the coast.
Tornadoes: Low risk. The greatest threat will be near the coast.
These impacts are most likely to occur Sunday through Monday.
Stay tuned for more information. This is the time, though, to go ahead and prepare for this hurricane season. If you have not done so already, create your emergency kit and your family's evacuation plans.
If you have any questions or concerns, please don't hesitate to reach out to CEMA.
---