Posted on August 02, 2020 - 12:8 PM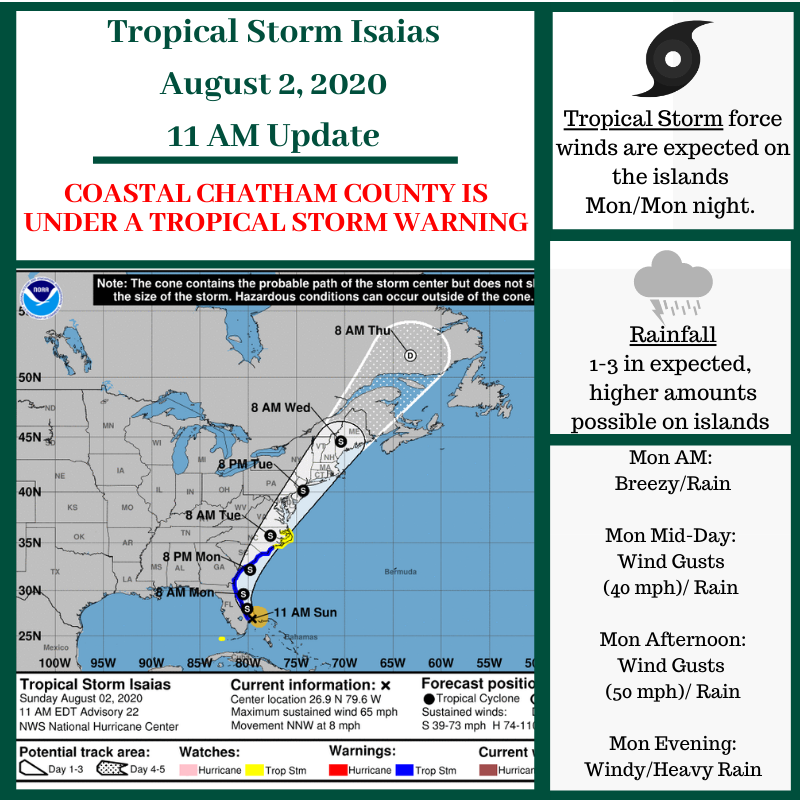 The 11am advisory for Tropical Storm Isaias has been released. Coastal Chatham County is under a Tropical Storm Warning.
Latest Local Forecast:
Rip Currents and High Surf
Beach Erosion is possible
Windy Conditions (30-40mph, gusts to 50mph) are possible near the coast including the islands
Breezy Conditions with gusts of Tropical Storm force winds (30-40mph winds) are possible in other areas of Chatham County
Coastal Flooding possible
Rainfall, 1"-3" – Starting as early as Sunday evening
Tornadoes – Isolated tornadoes possible
Potential Local Conditions:
Sunday PM- Rainfall may begin
Monday AM – Breezy Conditions begin, Rain
Monday Mid-Day – Wind gusts increase (40mph on the Islands), Rain
Monday Afternoon – Wind gusts increase (50mph on the Islands), Rain
Monday Evening – Windy. Heavy Rain. Evening high tide may be elevated depending on the timing of the expected heavy rains.
Monday Night – System should be clearing our area and conditions improving by midnight.
With higher winds throughout the county, it is possible for power outages. Be prepared by stocking your emergency kit. For a list of supplies to include, visit www.ChathamEmergency.org
---