Posted on August 02, 2020 - 8:39 AM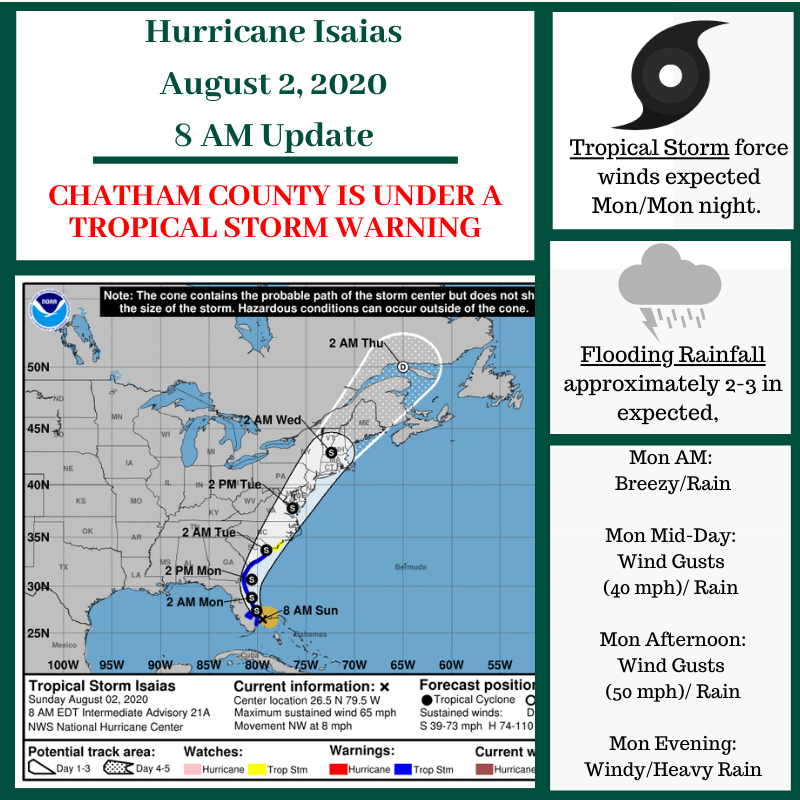 The 8am advisory for Hurricane Isaias is out. Chatham County is now under a Tropical Storm Warning.
Latest Local Forecast:
Tropical Storm Warning now in effect for coastal Chatham County
Rip Currents and High Surf
Beach Erosion
Breezy Winds (30-40mph, gusts to 50mph)
Coastal Flooding – Minor values (9'-10' tide @ Ft Pulaski)
Rainfall, 2"-3" – Possibly starting tonight
Tornadoes – Isolated tornadoes possible but not expected
Potential Local Conditions:
Monday AM – Breezy Conditions begin, Rain
Monday Mid-Day – Wind gusts increase (40mph), Rain
Monday Afternoon – Wind gusts increase (50mph), Rain
Monday Evening – Windy. Heavy Rain. Evening high tide (9'-10.3') may be elevated depending on the timing of the expected heavy rains.
Monday Night – System should be clearing our area and conditions improving by midnight.
Take time today to secure any loose items outside and prepare for stronger winds as we begin our work week. If you have any questions or concerns, please reach out to the CEMA office.
---